Get the Most out of Your Wallit
Wallit encompasses all the tools you need to successfully manage money in a collaborative and social way. From saving and transferring money, setting and tracking financial goals, assigning tasks and allocating allowances, to shopping and spending: with your Wallit you can do it all!
If you haven't yet, download Wallit from the App Store or sign up via the online platform here. Once you've created an account, you can start utilizing all of Wallit's convenient tools to help improve your family's banking and money management experience.
Here's how to get the most out of your Wallit…
Link Your Account
First thing's first, you have to connect your checking and/or savings accounts to your Wallit. What is so great about Wallit is that it works with your financial institution—rather than in competition with it—to provide you a modern, mobile banking experience.
Linking your checking or savings account allows you to fund your Wallit, which in turn allows you to transfer money to your family members. Not only that but linking your account will also give you access to important pieces of your financial information right from the app; you can see individual account balances, your account history, and a holistic view of your family's totaled accounts.
Linking your account is easy. After logging into your Wallit, click the plus button and then select "add an account". You will then be asked to verify your personal information for security reasons (don't worry, we'll keep it safe).  Next you will be prompted to select or search for your banking provider and log into your online account and select which account(s) you would like to add to Wallit.
And that's it—your account is linked to your Wallit. Now you will be able to select individual accounts and view your account balances, transaction history, and other personal information.
Add Family Members
Wallit is designed to encourage financial collaboration among the family unit.
It is easy to invite family members to Wallit. After creating your own account, you can invite a "co-parent" and children to join your Wallit family. Click on the "My Family" tab and select to add a child or co-parent. Fill out their basic information and send them an invitation to join Wallit.  Either via email, phone, or special code they will be sent an invitation to join your Wallit family. After they create their Wallit account they will be added to your family.
That's it! Once your family is on Wallit, you can start transferring money, set family financial goals, assign task to your kids, and more!
Fund Your Wallit
No wallet is complete without money! To add additional funds, transfer money from your linked accounts to your Wallit account. Go to your home screen and click "Wallit Balance". Then select "Transfer to Wallit" and enter the amount you would like to transfer.
Please note that it can take three to five business days for money transfers to be completed. Until then you will see "pending" next to your Wallit balance while these funds are being processed.
All transferred funds will be added to your Wallit balance. From here you can use your balance to transfer money to family members—such as paying your kids their weekly allowances—and buy digital gift cards. And don't worry, you are always able to transfer your Wallit balance back to your linked account if needed.
Automate Allowances
Whether or not to give kids an allowance is a debated topic among the parenting community. If you choose not to give your kids an allowance, then this feature is easily ignored and will not have to play a role in your Wallit experience. However, for those parents who are pro-allowance, Wallit makes it easy to set and pay weekly allowances to your children. Though we understand that allowances may not be fitting for every household, we do think it is a good way to help kids learn the value of money and that this feature makes the process even easier.
Setting allowances is a simple process. First, click on the "My Family" tab and select the child you wish to set an allowance for. Then click the "Allowance" tab. Here you will see two sub-tabs: "Approve Allowance" and "Set Allowance". To set a weekly allowance tab visit the "Set Allowance" tab and enter the desired amount. You can assign different amounts to each child and are able to change it at any time. On Saturdays each week you will be able to approve this allowance for the upcoming week. This approval process not only gives you full control over allocating allowances, but it also makes it so that you can opt out of allowances all together.
Set & Share Goals
Goal setting is an important aspect of money management and financial planning–which is why we included it in our software design. The goal setting feature allows you to set family financial goals, save towards those goals, and share your progress with friends and family.
To set a goal simply click the "Goals" tab and select "Add New Goal". From there you can create your goal and share it with your Wallit family. You can edit your goals by clicking on each individual goal. On your Wallit home page you will be able to see the progress you've made towards achieving that goal.
To share your goal on social media, select the individual goal you would like to share. At the bottom of the screen are a variety of buttons that allow you to share your goal progress with family and friends. Sharing your goals not only makes saving a social experience, but it also helps you hold yourself accountable towards achieving those goals.
To learn more about the importance of financial goal setting, read our blog post on spending and saving!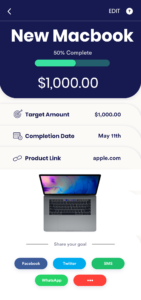 Assign & Approve Tasks
In addition to helping your family collaboratively manage money, Wallit also enables collaborative task management. The task tools allow you to assign tasks to each of your kids. This allows your children to see their weekly chores and submit a task for approval once they've completed it. You will then be prompted to approve the task.
Assign a Task
To assign a task, visit your home screen and click the plus button. Click "Add a Task" and select the task that needs to be done. From there you can fill out the specific information, including the child it is to be assigned to, a task schedule, and instructions. You can also assign tasks by clicking on an individual child under the "My Family" tab.
Submitting & Approving a Task
After your child completes a task, they can submit it for approval via the Wallit app. To do this, they first need to visit their home screen and click on "Tasks". From there they can select the task they've completed, take a picture of the completed task, and submit it for approval. You will then be able to check and approve this task via your Wallit account. To do this visit the "My Family Tab" and click on the individual child. From here you can view their completed tasks and approve them.
Transfer Money Among Family Members
Wallit makes sharing money among your family easy and quick.
To transfer money from your Wallit balance to your family members, click the plus button and select "Transfer Money". From there you will be able to select which family member you would like to transfer money to.
Shop for Gift Cards
In addition to the tools that make saving and managing your money collaborative and easy, Wallit also offers tools that make shopping convenient, too.
You can purchase gift cards straight from your Wallit app. From apparel and cosmetics, to gaming and technology, to dining and entertainment: Wallit offers gift cards from top brands in a variety of categories.
To buy a gift card, go to your Wallit home screen and click the plus button. Then select "Buy a Gift Card". From there you can explore our curated selection of brands and purchase a gift card to some of your favorite stores. Your gift card will then be delivered digitally to your phone and you can shop away!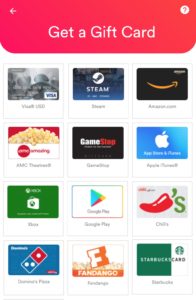 Have another question?
If you are having difficulty using your Wallit account, or have another question, take a look at our FAQs or contact us at info@wallit.app and we will be happy to assist you!
We hope that using your Wallit has made your family banking that much easier!
With Love,
The Wallit Team