Light your life with Wallit
TLDR: We are redesigning customer experiences around good "Money Moments" not financial products.
Thank you!  We are overwhelmed with the support and love from users, clients and partners on our rebrand and relaunch of Wallit ❤️.
Designed to solve the constant money struggle between parents and children, parents can use Wallit to transfer money to their children for completing household tasks, for getting good grades, or for any reason at all – in a more modern way.
Our newly released money app for families with teens and tweens includes many improvements and a restyled user interface with a modern, clean design theme that reflects current industry and market trends.
One of the favorite features here in the office and from our users are eGift cards.  All of our users can shop right in-app on our digital mall. There is an awesome selection of top brands in footwear and apparel, dining, cosmetics, gaming, and entertainment from retailers such as Apple to Amazon, Starbucks to Sephora, and Walmart to Target and many more for you and your kids to choose.  Wallit provides a shopping experience that can be enjoyed by all ages.
Wallit helps you keep your family organized, connected, and motivated to create good money moments.  You can budget a set weekly allowance and empower your kids to earn extra money for completing daily or weekly tasks.
Even better, you and your family can kick your money moments into high gear by creating savings goals and then share with your family and friends (hey kids, maybe your family will throw a little extra cash your way to hit your savings goals).  Play around with the spending charts, customize your budget, so that you can get a handle on your saving and spending.
Modern mobile banking app design
We're also working on an all-new, beautiful user interface to improve the user experience.  See the images below for a sneak peek. We will be releasing the updated design this month. With a variety of interesting features and use cases, we expect this version of Wallit to be a smash hit with lots of families!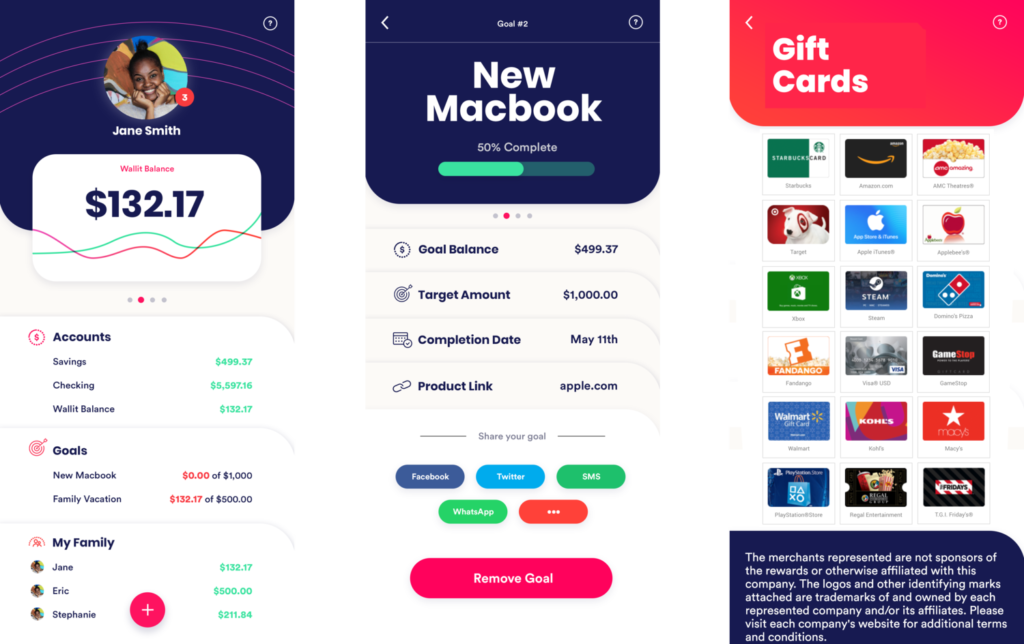 Future of banking
We aim to change the way the world banks.
At Wallit, we turn banking into a collaborative, social experience with families and friends. We create safer and smarter families by developing simple, powerful, and beautiful products that make it incredibly easy for anyone to take control of their money.
We will provide more details on our mission and vision in a separate post in the future. In the meantime, our updated mission statement is below.
Mission:
Our mission is to lighten and enlighten people's lives with good money moments that give everyone a chance to shine.
Our goal is to help this generation be better than the past when comes to making good money moment decisions. We provide the tools to teach good money moments built around earning, saving, spending, and giving.
Our platform is in its early years now, and while it is already light years ahead of other similar apps in the marketplace we are excited about what we have built to provide our users with the best banking experience ever – and for free! We will continue growing our platform and expand our services that will benefit our users, partners and clients. Our future is bright and we have reimagined many new user experiences to improve your money moments.
Where to start?
You can check out the app to see what is available now: https://my.wallit.app
Follow us on social media for more updates. We hope to hear from you: info@wallit.app
Shine on!