Merchants
Customer Acquisition
Wallit is transforming the way retailers and brands connect with consumers, enabling marketers to build deeper relationships with their customers, which drives customers in-store and online to spend more, spend more often, and to refer friends.
No matter what kind of retail business you have, Wallit makes it simple and secure to exceed your marketing goals.
Wallit's marketing platform promotes your business and the cash back your business is offering to millions of people through push notifications, email, our app and social media.
More than points, credits, or coupons, rewarding your customers with cash back creates a positive experience between your business and you customers.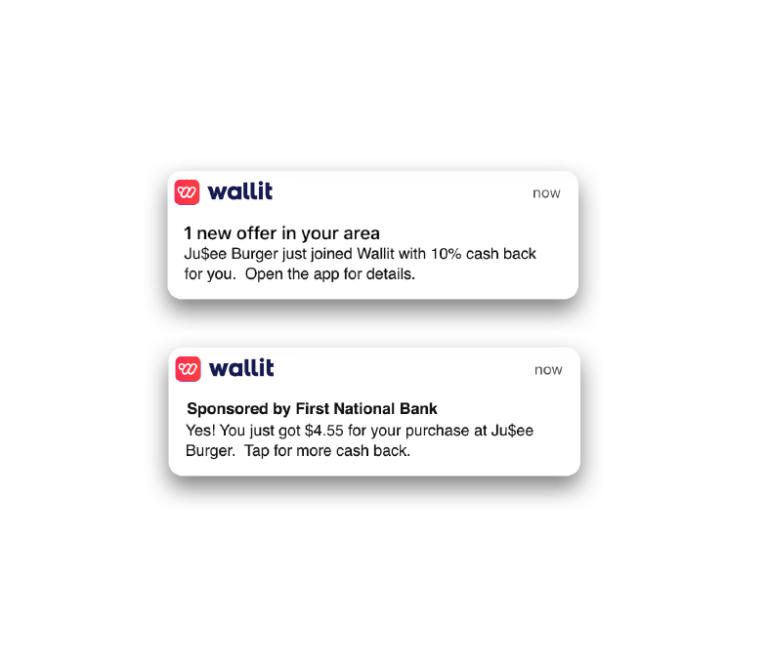 New customers, larger orders, more trips, and measurable ad spend.
New customers:
Acquire new shoppers at key moments along the path to purchase.
Larger orders:
Increase average order value by rewarding shoppers to spend more on each visit.
More trips:
Lift in transaction frequency and daily spend during active campaigns.
Better tracking:
Close the gap between your advertising spend and your in-store purchases – every dollar is directly attributable to a sale.
Surprise and Delight Your Customers
Effective Campaigns in 3 Easy Steps:
List your offer for free
Share any product or service for free, from restaurants to scuba diving and anything in between.
Design your campaign
Choose your own schedule, prices, and requirements for your customers. We're there to help along the way.
Launch and Monitor
Once your offer is live, we work with you to drive traffic to your business. Pay only when customers spend money.
Ready to get started?
Wallit is a win-win for you and your customers. Create your account, publish an offer and be live in a matter of minutes.  You'll gain an immediate competitive edge.
Bank or credit union looking to join our network?