Merchants
Built with businesses, for businesses
From restaurants to dental coverage to scuba diving and anything in between, Wallit is transforming the way retailers and brands connect with consumers, enabling marketers to build deeper relationships with their customers, which drives customers in-store and online to spend more, spend more often, and to refer friends.
No POS integration, upfront costs or training required. Pay only when customers spend money with you.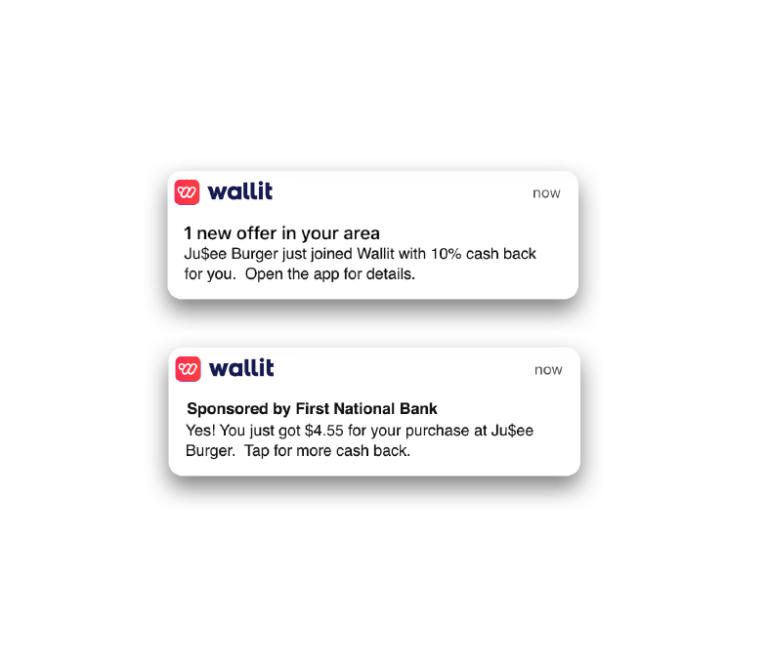 More loyalty
Surprise and delight customers at the point of sale with Wallit.
More spend
Increase average order value and daily spend during active campaigns.
More trips
Lift in transaction frequency leads to more spend on each visit.
Better tracking
Close the gap between your advertising spend and your in-store purchases – every dollar is directly attributable to a sale.
What customers are saying
For Anthony (Restaurant Owner), Wallit means:
"It's a robust platform designed specifically to augment customer acquisition. I think you'll agree that [Wallit] is targeting one of our soft-spots, worth engaging, and a no-brainer. Super psyched!"
For Dan (Restaurant Owner), Wallit means:
"Our customers love Wallit. From start to finish, Wallit gives us the ability to advertise effectively. Plus, it syncs beautifully with our existing loyalty program."
For Marla (Restaurant Owner), Wallit means:
"Life saver.  Getting started was a snap and much easier than I anticipated."
For Steve (EVP Community Bank), Wallit means:
"Truly a business model that is very valuable for merchants and community banks."
For Andy (VP Credit Union), Wallit means:
"As long as Wallit is around we will scale our budget infinitely. Anyone would be crazy not to."
For Warren (VP Regional Bank), Wallit means:
"Partnering with Wallit complements our corporate strategy to build a high-performance company."
Effective Campaigns in 3 Easy Steps:
Design your campaign
Pick the cash back amount for your customers. The Wallit team creates your offer for you.
Launch and monitor
We advertise your offer for free and drive consumers to your business.
In Store Marketing
Let customers know you accept Wallit right away. They'll thank you for it
by buying, buying more, buying more often and telling their friends.
Greet them at the door

Let customers know you
accept Wallit right away

Reward them at checkout

Show them how much you
appreciate their business
Try Wallit for free
Wallit is a win-win for you and your customers. Create your account, publish an offer and be live in a matter of minutes.  You'll gain an immediate competitive edge.